And by 'diet' I mean the Oxford Dictionary definition: "The kinds of food that a person, animal, or community habitually eats."
Amongst the hype of post-Christmas unsustainable crash diets (which will never be recommended by registered dietitians), one piece of evidence based advice shines through this January; eat more plants and less animal products. 
Back in November 2018, the British Dietetic Association launched the 'One Blue Dot' environmentally sustainable diets toolkit for dietitians. Today, The Lancet published their 'EAT –Lancet Commission' statement, summarising in great detail exactly why we should be doing this. This is the first time such a diet has been advised world wide, as it is a massive challenge. However not without good reason:
"The human cost of our faulty food systems is that almost 1 billion people are hungry, and almost 2 billion people are eating too much of the wrong food" (The Lancet, 2019)
"Strong evidence indicates that food production is among the largest drivers of global environmental change by contributing to climate change, biodiversity loss, freshwater use, interference with the global nitrogen and phosphorus cycles, and land-system change (and chemical pollution)" (The Lancet, 2019)
"Dietary changes from current diets to healthy diets are likely to substantially benefit human health, averting about 10·8–11·6 million deaths per year, a reduction of 19·0–23·6%." (The Lancet, 2019)
These are huge statements, demonstrating that not only can adjusting our diets to plant based mean better health for us, but a healthier planet; ultimately a planet and ecosystem that can last longer for our future generations. The aim is that if this great feat is undertaken, by 2050, the food system globally will have been adjusted to provide healthier diets to all estimated 10 billion humans and the planet itself.
Does this mean we all have to be vegetarian? No, plant based is a shift in diet from relying a lot on meat and other animal products for our protein sources, to adjusting to more plant based sources of protein in our diets overall. Meat can still be consumed, but less is advised (no more than 28g a day to be precise)
So what kind of adjustments need to be made? They say a picture tells a thousand words, so take a look at the below graph (from The Lancet, 2019). The dotted line is the reference dietary intake (what we are recommended to consume). The colours are either globally or regions of the planet. From this we can see that globally we consume excess amounts of red meat, starchy veg (potatoes, cassava, yam, corn) and eggs. In Europe we also consume excess amounts of poultry and dairy. And globally we massively under-eat nuts, wholegrains, legumes, fruit and vegetables.
The dietary shift required is around a 50% reduction in red meat intake, and an increase of more than 100% consumption of legumes, nuts, fruit and vegetables. In addition, a moderate to low amount of seafood and poultry.
What would this kind of diet look like? The BBC displayed this interesting picture below on their website today, demonstrating what this plant based diet would look like.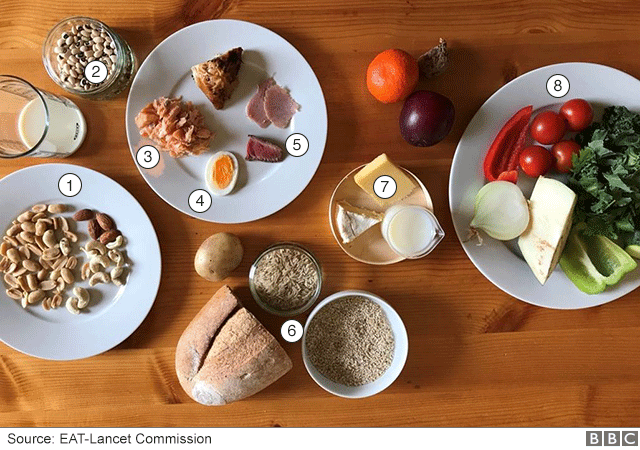 As displayed above:
Nuts – 50g a day
Beans, chickpeas, lentils and other legumes – 75g a day
Fish – 28g a day
Eggs – 13g a day (so one and a bit a week)
Meat – 14g a day of red meat and 29g a day of chicken (please note that the commission statement recommends no more than 28g total meat consumption per day however)
Carbs – whole grains like bread and rice 232g a day and 50g a day of starchy vegetables
Dairy – 250g (the equivalent of one glass of milk)
Vegetables – 300g a day
Fruit – 200g a day
The diet has room for 31g of sugar and about 50g worth of oils like olive oil
Any recipe ideas? Take a look at my instagram @aboutadietitian, here I try to follow a plant based diet, and publish recipes regularly!
What next? This policy alone cannot make changes. We all have a responsibility to raise awareness of this diet, as registered dietitians I recommend you look at the 'One Blue Dot' toolkit by the BDA to help with advice giving for patients. As humans, consider your own impact on the planet, and do what you can. Perhaps it would just mean a couple of dietary shifts for you, perhaps a lot, make small changes along the way…as they say, every little helps!
As well as our dietary intakes, it is recommended that food waste needs to be halved, at least. In my opinion, we should have minimal food waste. Perhaps that's an idea for another blog post!